Great Content Ideas to Steal from Tom Peters
Bestselling business book author and speaker Tom Peters has created a bonanza of compelling content on his website – enough that you could get lost for weeks, months, and yes, perhaps a year.
For me, it's like going to the library – I come away with tons of new ideas, new resources, insights and concepts that challenge me to make my "company" better.
Tom Peters is no spring chicken. He'll turn 69 this year but he's at the forefront of creating a sticky website filled with content his readers, fans, and customers want.
An innovator, he's embraced social media, video and sharing things near and dear to him.
If you're looking for great ideas on what compelling content you might create, look no further: Tom Peters has many ideas you can borrow.
His site has a great pressroom, and authors should take note of all the different ways he "re-imagines" his content.
What I find brilliant:
About Tom Peters
While the page is a bit word dense and lacks photos along the page, Peters has a media friendly, downloadable mug shot of himself, plus his latest book cover.
He offers short and  long bio options along with the copy on the page that takes you through his storied career and follows his shifts in thinking.
The only thing lacking is instant media contact info, but that info is on his contact page.
His press room spans several pages and includes an extensive media sightings page, which lists articles going back to 1997. I'm sure this is just a small sampling, but I love that he adds to them rather than scraps the earlier years.
Peters wrote a newspaper column from 1985 to 1993 – and 350 of them are posted on the site for your reading pleasure.
Photo: A Day in the Life and Peters' Own Photography
Photography is one of Peters' hobbies and he offers a peek into his work through a Flickr stream that includes photos of his New Hampshire Farm. His contact page even lists his zip code and link to find the weather at his farm.
Peters also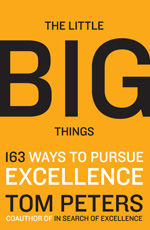 has a slide show with many photos of his speeches called A Day in the Life, which I found interesting to flip through. Any company could add this type of content, with manufacturers having a treasure trove of interesting shots to share. Why not feature your employees at work using photos and a bit of copy?
Books in Bites
The man who invented the "management guru industry" has written more than 15 books, with in Search of Excellence being the first and granddaddy that launched the empire in 1982.
Not only can you buy any of his books, but you can read Synopsis from his latest book The little BIG Things, which Peters liberated from the book to get it into more people's hands. The highlights, in single sheet PDF downloads, are the CliffsNotes version, with several elements missing – you'll find those in the book. Here's a link to #31 Innovation.
Audio Clips
While Tom was making the audio versions of The Little BIG Thing book, his team made several MP3s, which you can grab and listen to on the site. On his video page, you'll find speaking samples on this page so you can hear him in action before booking him for an engagement.
Videos: Tom Peters On Stage

Want to see (and hear) Tom Peters in action? Tom has his own channel at YouTube, and several, including one about the importance of listening, and how NOT to be an 18 second manager.
A great added benefit: Peters adds a PDF transcript of the videos for those who want to READ what he said instead of WATCHING, a nod to the idea that people learn differently. Do you offer transcripts of your videos?
A Treasure Trove of Free Stuff
With all of the content and information I've shared with you so far, you'd think Peters wouldn't have much let to give away. And you'd be wrong.
His Free stuff starts out with a Tweetbook, a collection of tweets that are updated frequently – which gives people a reason to come back.
He then gives you 31 other short presentations from This I Believe – in which Peters compiled 60 thoughts one for each year that captured his professional and personal journey –  to a compilation of his Blog posts from 2004 to 2005 to 111 Ridiculously Obvious Thoughts On Selling.
Chief marketing officers looking to creative and compelling content should look at this Free page alone to get a myriad of new ideas for their companies.
I may write a post about this content alone and the ideas it provides. These are great bits of content that could really be special reports, mini white papers or e-book ideas.
Ever changing Website Header
I fell in love with Tom Peters' every changing website header back when I was first contemplating launching my freelance writing website in 2008.
I had grand plans of changing it every so often – after I learned how to use Photoshop. Long time visitors will see it never changed.
And the answer is yes, I still haven't found time to learn Photoshop to make headers from my photos.
There's more to be found at Peters' site, but I will let you discover those on your own.
I'd love to hear your thoughts: Where have you found great content ideas?  What websites are very good at generating compelling content?
Book Cover and Headline Banner courtesy TomPeters!