One Critical Webpage All Small Business Marketers Need to Bookmark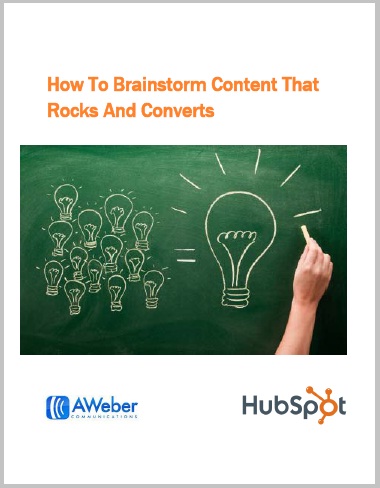 As a freelance writer trying to stay on top of everything happening in content marketing, social media, and marketing, I find I turn to one single page at one company all the time.
It's simply an indispensable page packed with tons of information.
The single page is Hubspot's Internet Marketing Whitepapers & eBooks page, which lists all of their eBooks and whitepapers.
On this single page, you can access:
How to use Twitter for Business

How to use Google + For Business

 

How to Use LinkedIn for Business

Introduction to Search Engine Marketing 

 

Introduction to Effective Calls to Action

An Introductory Guide to Building Landing Pages

 

How to Master Facebook Marketing in 10 days

99 Tools to Help You Generate Leads with Social Media

7 Steps to Jumpstart your Email Marketing Strategy

 
As of today, there are 72 whitepapers and eBooks on topics every small business marketer needs to know.
I download all their eBooks, retweet their tweets and find myself reading their blog more and more.
And I have to be careful, because soaking up all their knowledge is like letting me browse at the library – I'm bound to spend hours and come away with at least 13 books to read.
I don't work for Hubspot, I haven't interviewed them and I'm not affiliated with them, although I'd love to do any of those things one day.
A close second single page resource would be the landing page for all of Hubspots marketing hubs.
These hubs include blog posts, articles, video, webinars and case studies on a single topic.
Two examples are:  the Business Blogging Marketing Hub and the Inbound Marketing Hub.
Hubspot, which obviously does an excellent job of creating materials that their target audience – small business marketer's needs, actually sells marketing analytics software.
They created a cool video and put it on the homepage that tells you more about what they do.
In addition to the many information products, Hubspot has created several grader tools useful to measure the effectiveness of your press releases, website and just recently, your website marketing.
I learned many things from the marketing grader that I could improve on my website – even tiny things that can improve my SEO.
Here are links to:
For April Fool's, they created a personality grader – but it doesn't work currently – maybe they'll come up with something equally clever next April.
Do you have a single page you return to time and time again that's indispensable?